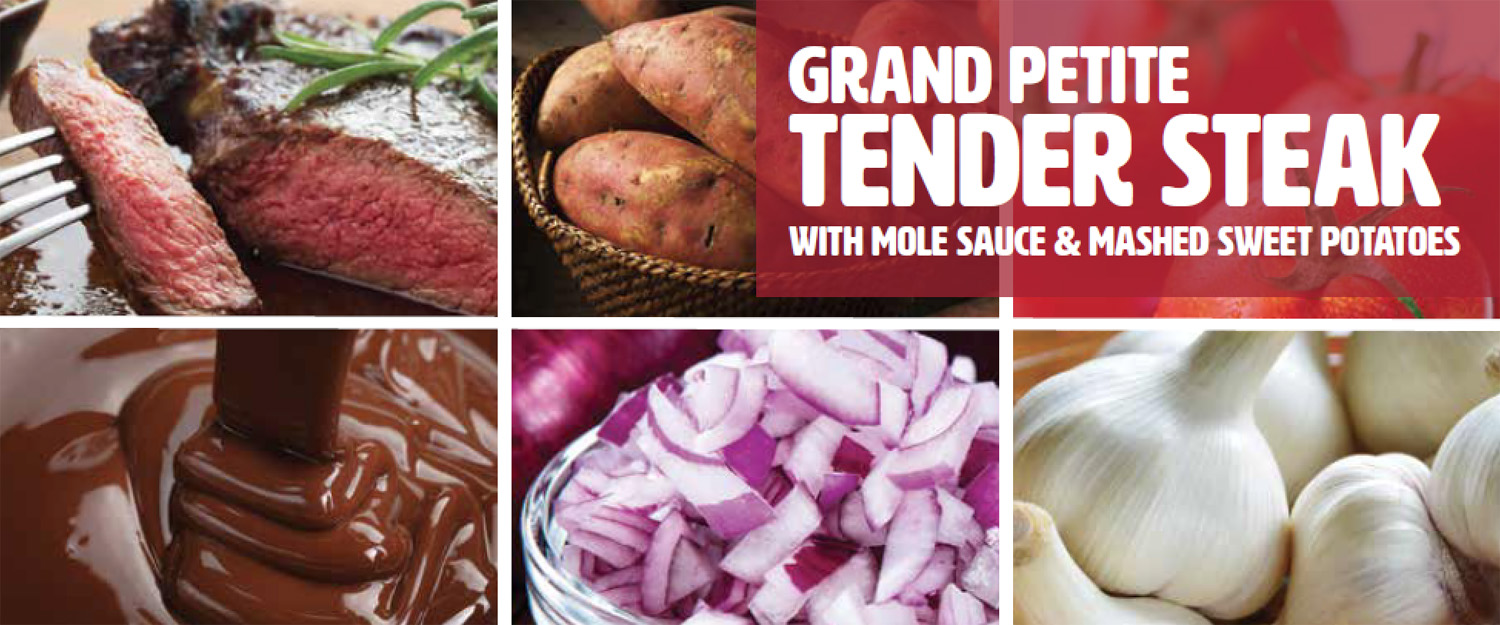 Grand Petite Tender Steak

with Mole Sauce & Mashed Sweet Potatoes
1 tablespoon vegetable or canola oil
1/2 cup chopped onion
2 cloves garlic, minced
3/4 cup unsalted beef broth or stock
1 cup chopped plum tomatoes
3 1/4 cup pepitas (pumpkin seeds)
2 dried ancho chiles, stemmed, seeded and coarsely chopped
1/4 cup bittersweet chocolate chips
2 medium sweet potatoes (about 1-1/4 pounds)
1 (1 pound) well trimmed petite beef tender steak(s) (also called chuck mock tender steak)
1-1/2 teaspoons smoked or sweet paprika
3/4 teaspoon freshly ground black pepper
1/4 teaspoon salt

 
---
For the mole sauce, heat oil in a medium saucepan over medium heat. Add onion and garlic and sauté 5 minutes or until onion is soft. Add the broth, tomatoes, pepitas, dried chiles and chocolate. Bring to a boil over high heat. Reduce heat to medium and simmer uncovered, stirring occasionally, for 10 minutes. Transfer the mole sauce to a blender. Remove the round vent on the blender cover. Place cover over blender and cover the vent with a towel or pot holder. Blend until sauce is fairly smooth. Return the sauce to the same pan and keep warm over low heat.
For the sweet potato puree, peel the potatoes and cut into 1-inch chunks. Place in a large saucepan and cover with tap water. Bring to a boil over high heat. Reduce heat and simmer until potatoes are very tender, about 10 minutes. Drain in a colander and return to same saucepan. Add 1/2 cup of the mole sauce and mash with a potato masher to desired consistency. Cover and keep warm on low heat.
For the steak, heat a gas grill or prepare a charcoal grill for medium-high heat. (Or, heat a ridged grill pan over medium-high heat until hot.) Season the steak with the combined paprika, pepper and salt. Grill uncovered or cook in the heated grill pan for 5 minutes per side for medium rare steak. Transfer the steak to a carving board and tent with foil. Let stand 3 minutes. Carve the steak crosswise into thin slices.
Spoon the potatoes onto four warm serving plates. Top with the steak and spoon some of the mole sauce over the steak. (Any leftover mole sauce may be refrigerated up to 5 days for serving over grilled pork or chicken.) Makes 4 servings.

Nutrition Facts
per serving
Calories 340
---
Calories from fat:

120g

Total fat:

14g

Saturated fat:

5g

Unsaturated fat:

3g

Sodium:

260mg

Carbohydrates:

28g

Fiber:

6g

Sugars:

8g

Protein:

30g

Iron:

30%DV

Zinc:

48%DV

B12:

48%DV