Jerky, by definition, is trimmed, lean meat or poultry that has been cut into strips, smoked, cooked, and then dried. High in protein, low in fat and calories, and easily portable, jerky is the perfect, guilt-free snack to add to your diet.
History
It's estimated that jerky was discovered in the 1500s by the Quechua people — native to South America. Jerky was created because it was easy to travel with and kept the meat preserved. There were no refrigerators back then! The tribes also didn't have dehydrating machines. They dried the meat under the sun.
The word jerky comes from the Anglicization of the Native American term charqui, which means "dried meat."
The preparation of jerky isn't restricted to any single animal; it can be made from pork, venison, elk, caribou, moose, and more.
---
Fun Facts
Jerky Day is June 12
NASA has been using jerky for astronauts since 1996.
During the jerky drying process, the meat loses three-fourths of its original weight because all the moisture is removed. The resulting meat is very lean and very rich in protein.
The meat snack industry, which includes jerky, grew to an estimated $2.8 billion in 2016, and it continues to grow.
Nielsen also reports that American households spend an average of $25.81 per year on meat snacks. Their per-trip spend on sticks and jerky is also about twice as much as it is on snacks like potato chips and popcorn ($7.42 vs. $3.61 and $4.01, respectively).
Jerky is a popular wine companion in Rome. Rome has many places where wine is served alongside beef jerky.
Jerky flavors include: original, honey smoked, hickory smoked, teriyaki, sweet and hot, lemon pepper, chipotle, bacon, cajun, jalapeno, and so many more.
Comedian Jeff Foxworthy has a line of beef jerky
Actress Mindy Kaling enjoys beef jerky while learning her lines in her trailer
NBC News recently highlighted jerky as the snack trend of the moment
Buc-ees in Texas features a large jerky counter with nearly endless jerky options
Beef Jerky Outlet is a chain of stores with more than 100 locations and another 100 to come around the country
Disney featured a character called Beef Jerky on its Quackpack show
---
Never before has there been such a variety of jerky options in the marketplace that range from lower and reduced fat and sodium products to choices featuring unique flavor profiles like chili lime, pineapple orange, honey dijon, and teriyaki – to name a few. It's no surprise, then, that consumers are increasingly turning to jerky to feel satiated when traveling, to refuel post-workout, and to avoid the afternoon slump at the office. Parents are also embracing this convenient, nutrient-dense snack to complement kids' lunches and to keep after-school hunger at bay. So go ahead and delight in the endless delicious jerky options available to satisfy your most persistent cravings.
---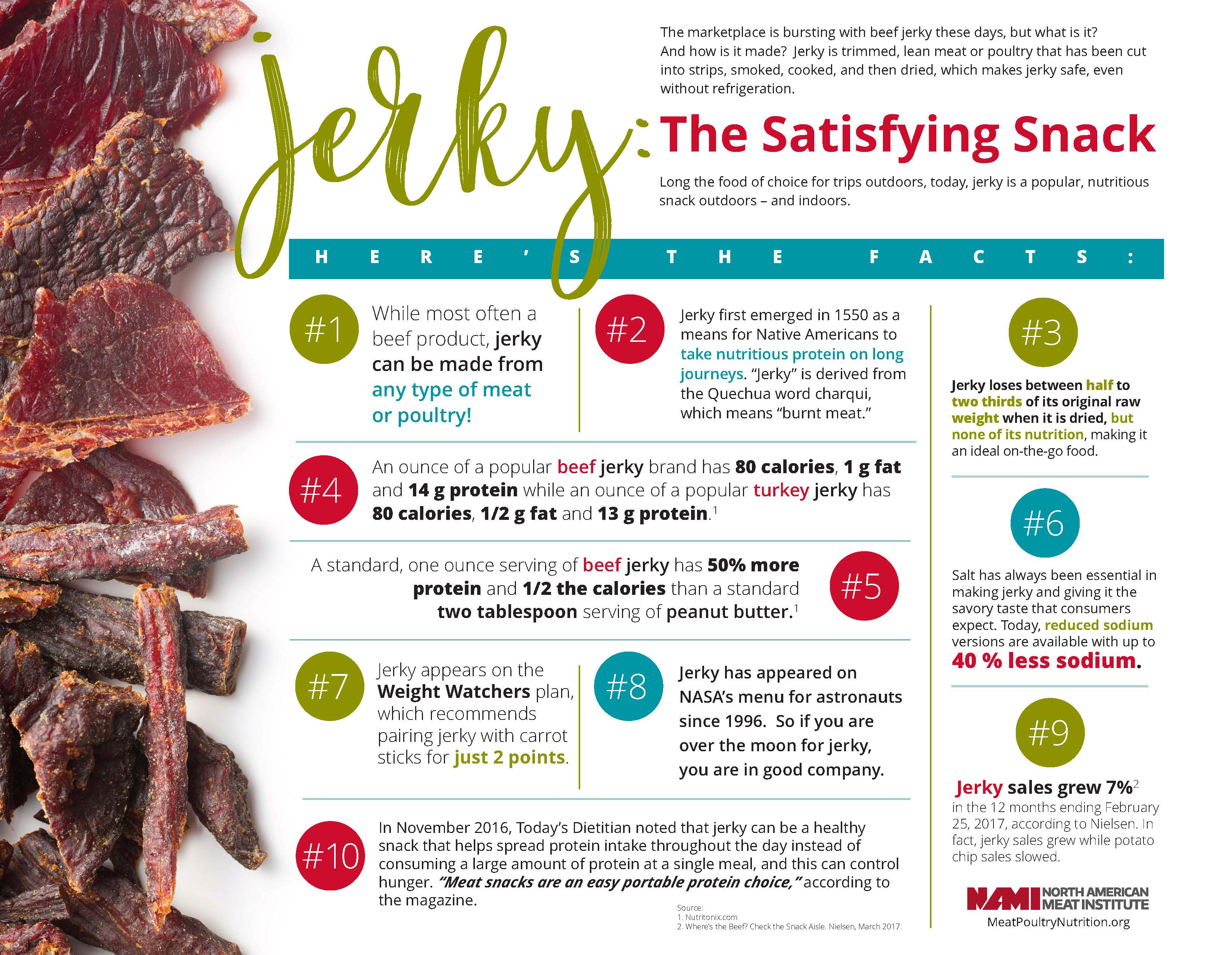 ---
There are many nutritious jerky choices available, including more than 44 low fat options. The below guide features a sample of Meat Institute member products for those seeking jerky that meets one of these nutrient content or health claims.
---
AHA Certified - To earn American Heart Association (AHA) certification, a product must meet specific nutrition requirements outlined in the AHA's Heart-Check program.
Low Fat - 3g or less per serving; or 3g per 100g for a meal or main dish, and 30% of total calories or less
Low Sodium - 140 mg of sodium or less per serving
Natural - A product containing no artificial ingredient or added color and is only minimally processed.
Reduced Fat - 25% less fat than food it is being compared to
Reduced Sodium - At least 25% less sodium than in the original product
Organic - Organic livestock are fed 100 percent organically grown feed (grain) and forage (pastures). Use of synthetic hormones, vaccinations, and antibiotics is prohibited. Synthetic pesticides on pastures are also prohibited.
---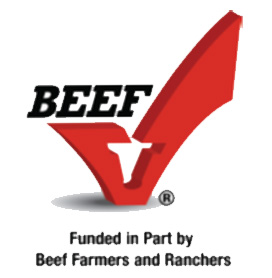 Some internal links within this document are funded and maintained by the Beef Checkoff. All other outgoing links are to websites maintained by third parties.